Main content starts here, tab to start navigating
Menus
Slide 1 of 3
Slide 2 of 3
Slide 3 of 3
Prices are subject to change at any time without notice.
Lunch Menu, 11/20 - 11/25
HAPPY THANKSGIVING!! It's "A CHARLIE BROWN THANKSGIVING"!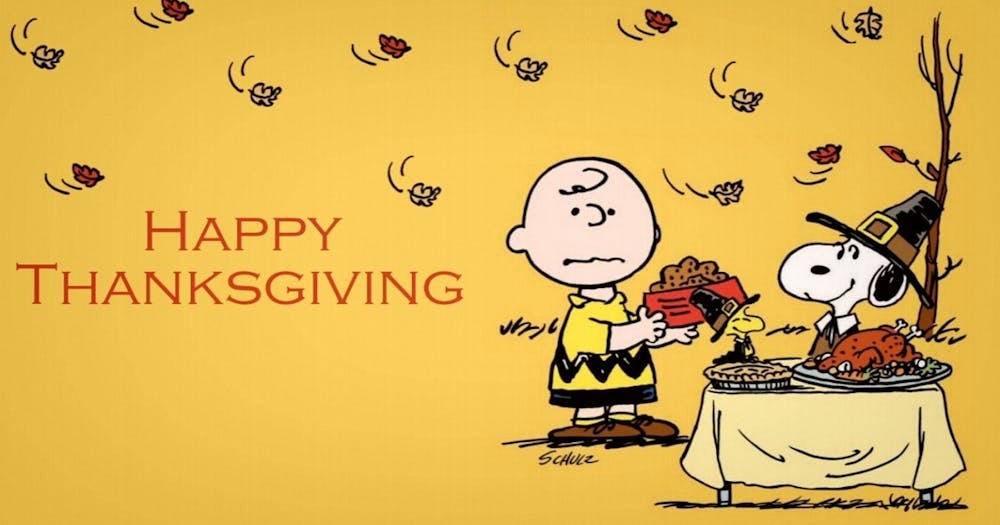 Cold Sandwiches of the Week --
#1) "CHARLIE BROWN" - Boar's Head Peppered Ham, London Broil, Smoked Turkey, Asiago Cheese, Homemade Hot Banana Peppers, Shredded Lettuce, Tomato, Onion, & Cajun Mayo on Ciabatta Bread w/ one Side $11.95 tx
#2) "LUCY" - Oven Roasted Turkey, Havarti Cheese, Honey Mustard, Spinach, Bacon, & Cranberry Sauce on a Baguette w/ one Side $11.95 tx
Salad Special of the Week --
"WOODSTOCK" - Grilled Chicken, Blueberries, Candied Walnuts & Toasted Cashews, Sliced Apples, Red Onions, & Crumbled Blue Cheese on a Bed of Mixed Greens w/ Balsamic Vinaigrette & Grilled Bread $12.95 tx
Vegetarian Special of the Week --
"SALLY" - Cauliflower Pizza Crust w/ Asparagus Pesto, Roasted Asparagus, Sundried Tomatoes, Shredded Provolone & Mozzarella, & topped w/ Arugula & Balsamic Glaze served w/ a Side of Fruit & Fries $12.95 tx
SOUP FOR THE WEEK --
Wednesday - Wedding
Thursday - Sweet Potato Chowder
Friday - Maryland Crab
HOT SPECIALS FOR THE WEEK, SERVED ONLY UNTIL FRIDAY FROM 11 AM - 2 PM.
#1) "SNOOPY" - A THANKSGIVING DINNER -- Turkey w/ Homemade Gravy, Choice of Sweet Potatoes or Mashed Potatoes, Homemade Stuffing, Candied Brussel Sprouts in a Maple Bacon Glaze, Roll & Butter, & a Slice of Pumpkin Pie $14.95 tx
#2) "PIG PEN" - Fish Sandwiches/Specials Available. Shrimp Available as well! Specials include Fries & Homemade Cole Slaw. $11.95 tx. FISH IS ONLY AVAILABLE ON FRIDAY FROM 11 AM - 6 PM.
Meats
All our Products are either Boar's Head Brand or Made in-House
Turkeys
Aloha Sunshine Turkey

Blackened Turkey

Cajun Turkey

Our Own Turkey

Cracked Pepper Turkey

Golden Catering Style Turkey

43% lower sodium

Black Forest Smoked Turkey

Mesquite Smoked Turkey

Maple Turkey

No Salt Added Turkey

Natural Turkey

Simplicity Tuscan Turkey
Italian
Hard Salami

Hot Sopressata

Prosciutto di Parma

Serrano Ham

Sandwich Pepperoni

Genoa Salami

Cooked Salami

Mortadella w/ Pistachios

Hot Capicola

Peppered Salami

Bianco D'Oro Salami

Finocchio (Fennel) Salami
Chicken
Teriyaki Chicken

Chipotle Chicken

BBQ Chicken

Blazing Buffalo Chicken

EverRoast Chicken

Golden Classic Oven Roasted Chicken

42% lower sodium
Beefs
Our Own Roast Beef

Boar's Head London Broil

Pastrami

1st Cut Cooked Corned Beef Brisket
Ham
Our own Baked Ham

Applewood Smoked Ham

Bourbon Ham

Low Salt Ham

42% lower sodium

Cappy Ham

Pepper Ham

Maple Ham

Pesto Parmesan Ham

Rosemary & Sundried Tomato Ham

Virginia Baked Ham

Beechwood Smoked Black Forest Ham

Sweet Slice Uncured Ham

Tavern Ham

Uncured Ham
Misc.
Garlic Bologna

Beef Bologna

Lebanon Bologna

Regular Boar's Head Bologna

Head Cheese

Olive Loaf

Meat Loaf

Taylor Pork Roll

Porketta

Braunschweiger Liverwurst
Cheese
Swiss
Guiggesberg Swiss

Boar's Head Swiss

Baby Swiss

Lacey Swiss

Jarlesburg Swiss
Cheddars
Vermont Cheddar

Yellow or White

Wisconsin Cheddar

Yellow or White

Sharp Cheddar American

Hoffmans Super Sharp Cheddar

Horseradish Cheddar

Habanero Jalapeno Cheddar
Italian Cheeses
Provolone

Picante (Sharp) or Regular

Mozzarella

Italian Herb Mozzarella

Fresh Mozzarella

Ciligini or Ovalini

Fontina

Asiago
Colby
Longhorn Colby

Colby Jack
Spicy Cheeses
Havarti w/ Jalapenos

Pepper Jack

Three Pepper Colby Jack

Chipotle Gouda

Smokey Pepper Jack

Scorpion Cheddar
Cheeses
Boar's Head American

Yellow or White

American (Land O Lakes)

Muenster

Brick

Havarti

Havarti w/ Dill

Farmers

Smoked Gouda

Marblu

Pepperoni

Gruyere
Salads
Macaroni Salad

Potato Salad

German Potato Salad

Ranch Red Skin Potato Salad

Loaded Baked Potato Salad

Pasta Salad

Creamy Cole Slaw or Vinaigrette Cole Slaw

Bean Salad

Spring Salad

Tortellini Salad

Broccoli Carbonara

Broccoli Feta Salad
Marinated Veggies

Roasted Hot Peppers

Roasted Sweet Peppers

Oven Roasted Tomatoes

Fresh Fruit

Regular Chicken Salad

Gourmet Chicken Salad

Tuna Salad

Egg Salad

Regular Ham Salad

Applewood Ham Salad

Antipasta Salad